Ole Miss Baseball: Grove Grinder, Riding The Storm Out
Sometimes being a Ole Miss baseball fan just isn't easy. While the Rebels have struggled on the diamond, we've all seen storms both on and off field.
Coach Mike Bianco and Ole Miss baseball (27-15, 10-8) simply haven't had the season many Rebels fans had expected. Just a few weeks ago were able to see Ole Miss pound No.16 Florida and pick up the SEC series sweep. Since that time we have watched the Rebels play nine games and pick up just four wins.
While some fans are calling for new coaches this is the game of baseball and it can be a very crazy game. Coach Mike Bianco and the Rebels will be ok and will bounce back but sometimes slumps and setbacks will happen. It's common for the best of teams to see rough times but it happens a lot in America's game and in life.
Game of Life
Being a former baseball player and coach I have seen how bad a great team can be on any given day. After 53 years I have seen it happen time and again. In a game where you see players try to hit a third of the pitches they see you realize no player is perfect. You swing a lot more than you actually hit. Even when you do get a hit you have to depend on the rest of your team to do their part to make that hit count.
When I was much younger I had a baseball coach who explained to us how the game of baseball was much like the game of life. There are times where you may be on a win streak and certainly be times when you are in a bad slump. There will be times in your life where you may hit homeruns and there will be times when you strike out.
It's always great to win but inevitably there will be times you lose. Whether in the game of baseball or the game of life you will see wins and losses. This doesn't mean you are a loser but it does mean you may need to put in a little harder work on your next try.
Thinking Of Our Readers
OHT hopes and prays all of our readers and followers are safe. This past Thursday the Southeastern United States was hit hard by severe weather. Here in Mississippi there were a large number of counties which were hit by tornadoes and the destruction was massive. Here in Neshoba County we were hit by three separate tornadoes, of which one touched down on our property and did a large amount of damage to our land and home. Thankfully, we are all safe and we will bounce back.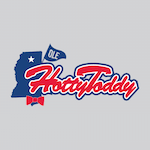 Want your voice heard? Join the Ole Hotty Toddy team!
Write for us!
Storms come and go in life and in baseball, some of which you win against and you get thru it. However, there will be cases where the storms beat us down. It is necessary to pick yourself up and keep going. The only other choice is to lay down and never get back up. The latter is something we here refuse to do. Coach Mike Bianco and Ole Miss baseball will be fine and so will those of us who continue to grind forward. Hotty Toddy!